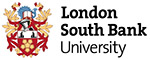 London South Bank University.
LSBU is a large modern university campus in Southwark, immediately north of the Elephant & Castle. The university offers a variety of unique, hard to access filming spaces, including labs, hospital wards, lecture theatres, studio spaces and a private road, all available in central London.
The university provides a huge range of filming & photography opportunities. The campus is presented in our library as below:
---
---
Keyworth Centre


Conference centre, meeting rooms & Architectural Environment in a modern building with an impressive atrium.

more pictures...
---
K2 building


...with a spectacular eight-storey atrium, it houses the Faculty of Health & Social Care, including hospital wards and an operating theatre (see reference 3898). At the top of the building is the Centre for Efficient and Renewable Energy.

more pictures...
---
Business Centre


University business centre, with an atrium reception and a collection of large and small offices and meeting rooms.

more pictures...
---
---
Medical training clinic


...includes treatment rooms, offices, lecture theatre and meeting rooms.

more pictures...
---
DARLAB


...the robotics lab with a full-size programmable robotic arm.

more pictures...
---
LSBU Croydon


Five hospital ward training rooms, including an observation room. South London.

more pictures...
---
---
---
Passmore Centre


Business & networking hub with a variety of flexible spaces: classrooms, a large hall, meeting rooms, offices and a café.

more pictures...
---
The Edric Theatre


A configurable 90-seatre performance space and rehearsal rooms.

more pictures...
---
Faraday Wing


...including large industrial laboratories and lecture theatres.

more pictures...
---
Sound & Noise Research Centre


The facility includes an anechoic chamber, a reverberation chamber (with sound-absorbing wall) and a light laboratory.

more pictures...
---
Kell Street


A private road within the bounds of the University.

more pictures...
---
---
Training kitchens


Large commercial training kitchens in the National Bakery School.

more pictures...
---
---
---
TV studio


A fully equipped TV studio, rehearsal spaces and preview theatre, also a photographic studio.

more pictures...
---
"Forensic flat"


An empty council-style flat used for forensic investigations, including a murder scene complete with dummy dead body!

more pictures...
---
---
---
---
---
To enquire about the possibility of hiring any part of the University as a location, please contact us at LSBU@locationworks.com, or fill out a form here.
London South Bank University has an exclusive partnership with Location Works; for more information call us on 0800 334 5505.
---
Locations for filming, photography and events: contact us on

0800 334 5505

or email for further details.
---