---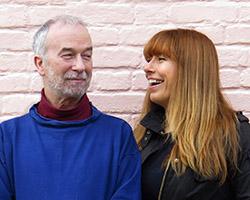 Location Works is the achievement of father-daughter partnership Kell Gatherer and Lorna Gatherer-Ford. Kell started the company way back when, and now Lorna is the MD. Kell has worked as a location scout and location manager on hundreds of commercials, and as a manager/producer on innumerable stills photographic shoots around the world. Lorna is the managing director, heading up our team of location co-ordinators, and Kell is the chairman and web-master. Proud father + proud daughter = a winning combo!
In a nutshell, Location Works finds locations for filming, television, photo-shoots and events. We were the first agency of our type in the world, we created the first on-line location library in the world, and we continue to be a best-in-class market leader, providing hundreds of locations for feature films, television dramas, commercials, music videos, photographic shoots and events each year.
1985 - 2023

Location Works was formed in 1985, making it the longest established company of its kind in the U.K. Prior to creating the Location Works library, scouts went out speculatively on each job to photograph potential locations, and glued them on mounting board to present to the client. The LW library started as a collection of these images organised into a categorised filing system, using bar-coded photo sheets and lots of shelf space!

The library first went on-line in 1996 - it was the first web location library in the world - and it was a natural progression to put all business on-line. We are now a virtual company - our team working from offices in London, Bristol, Devon, Northampton, Norfolk, Suffolk, Ireland, India and Sweden - using VOIP internet telephony and our own job-tracking software "sumeru". Sumeru is our bespoke database which provides secured access to data from any computer using any browser. Thus we can work from any location or any shoot (we have had team managers working temporarily from New York and the Cannes Film Festival). This flexibility has enabled us to reduce our carbon footprint, by reducing our reliance on one central office, with staff working from home, or in one of our three main hubs (two in London and one in Suffolk).

...was a brand new idea when we started. Location scouts used to always start a search afresh, and the photographs they took would more often than not be discarded at the end of each job. We kept the photographs and organised them into a library, categorised by location type. When the web came along, it was a natural progression to put the library on-line. Now we have more than 750,000 location photographs in our library, and few location scouts these days would dream of starting a search for a location without first dipping into a location library.

Our library is the result of many thousands of person-hours acquiring images, processing them, categorising them, etc. Our library grows every day - we have hundreds of new locations uploaded every year, from palaces to grotty bed-sits, from the strikingly unusual to the down-right ordinary. Check out our latest locations; if you don't see what you're after on this visit, be sure to bookmark the site and have another look later!
We hope you find what you're looking for by visiting our web site.
Praise and constructive comments can be sent to info@locationworks.com; criticism please send to nospam@nospam.go.away.